Morphology of plant names in the Mpiemo language
Presented here is an overview over a study of plant names in Mpiemoand the use that the Mpiemo people make of these plants. The study has been conducted by Christina Thornell from 2003 - ? .... References to the material presented here can be found at the end of this article.
In the following we exemplify the content of the study through 5 examples. Each of the examples consists of a general specification of the plant and its description in Mpiemo, French and English. The text is accompanied by a picture and an audio file.
Aboncan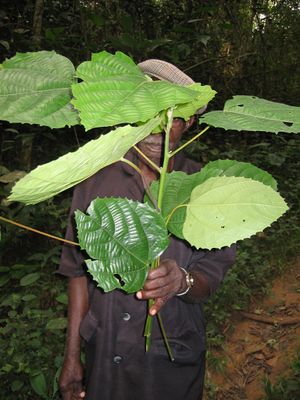 Miali aboncan
Alchornea cordifolia (Schumach. & Thonn. in C.F.Schumacher) Müll. Arg. (EUPHORBIACEAE)
Macaranga hurifolia Beille (EUPHORBIACEAE)
Ngwomi aboncan
Erythrococca sp. (EUPHORBIACEAE)
Macaranga spinosa Müll. Arg. (EUPHORBIACEAE)
Plant description in Mpiemo
Aboncan a ngwanjɔ le, sa ya i ba: ngwomi ya nɛ miali ya. Bali wa gɔ i le mɛgwɔ. Sɔɛ le aboncan gɔ, bɛ sola nɛ jambɔ nɛ bideɔ. Dɔli gɔ bɛ ri bo bee bile mɛboncan, bɛ po yɛ, sa nɛ yɛ bidima binjɔɔ nɛ bomi nɛ bikakaba mɛdela. Bile lombɔ, kombo, ncɔli ba mɛboncan bɛ simo mɛsala wɔrɔ.
Plant description in French
Aboncan est un arbre. Il y en a deux espèces: le pied femelle (miali) et le pied mâle (ngwomi). Le bois sec est employé pour les cuissons des aliments. Autrefois, on fabriquait des portes de case et des cercueils à partir du bois d'aboncan parce que leur bois est tendre et facile à lui donner une forme. Autres bois comme celui de aboncan sont lombɔ, kombo et ncɔli (Voir lombɔ, kombo et ncɔli).
Plant description in English
Aboncan is a tree. ....