Graduate Course in Linguistics, University of Education, Winneba, Ghana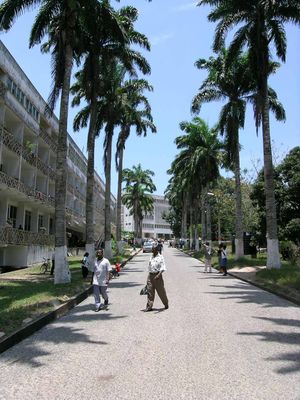 University of Education Winneba
The Department of Linguistics at the University of Education, Winneba offered 2 graduate level intensive courses on Language Description and Analysis in January 2011:
Introduction into Lexical-Functional Grammar. January 10 - 20 2011
The course reviewed the basic principles of Generative Grammar with emphasis on the framework Lexical-Functional Grammar (LFG), and gave a practical training in applying the theory and its formalism to language data, predominantly from Ghanaian languages.
Instructor: Prof. Lars Hellan, NTNU, Norway.
Time: Jan 10, 11, 12, 13, with sessions in the morning and afternoon, including training sessions.

Language Description and Analysis - digital linguistic tools and their use.
The course focused on creating and managing of small research corpora and the creation of linguistically annotated texts and sentence collections. Guidelines for creating linguistic research projects, as well as the impact that new trends in language description and documentation have on the study of Ghanaian languages were discussed.
Instructor: Prof. Dorothee Beermann, NTNU, Norway.
CLASS MATERIAL:
The picture below shows some of the participants of the course at the end of the final session which took place at the computational centre at UOEW's North Campus: